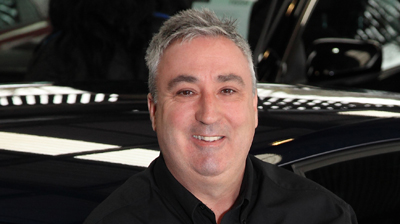 Remarketing companies play a critical role in the asset finance journey, underpinning the profitability of millions of leasing deals each year by extracting the maximum residual value from an asset at the end of a contract.
The sector is seen as a perfect platform for digital innovation, but for executives at fast-expanding UK vehicle remarketing company Aston Barclay, the focus is on balancing change with tradition in delivering their vision for the future of the industry.
Alongside extensive investment in smartphone apps, sophisticated digital services and websites, it is creating a growing nationwide network of physical auction centres around the country.
The real-world implementation of this blend of physical and digital services is on show at its latest site, a new multi-million-pound remarketing centre in Wakefield, West Yorkshire, where up to 50,000 used vehicles will be sold annually.
Combining physical and digital remarketing services
The design of the so-called "supercentre" reflects Aston Barclays ambitions to redefine perceptions of the remarketing sector, with its two glass-fronted auction halls offering a range of interactive screens as a direct link between the physical and digital worlds.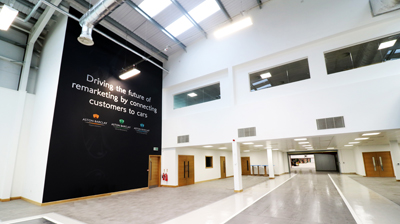 There is also a state-of-the-art vehicle inspection building complete with imaging bay and turntable to capture a full picture of each car's condition both inside and out, so remote bidders can get a detailed view of a vehicle they are bidding on.
Aston Barclay's aim is for vehicles to be switched seamlessly between integrated offline and online sales channels as required, to generate the best price and an efficient sales process for sellers, while offering the greatest flexibility, choice and insight for buyers.
Instead of being solely designed as an auction centre, the site will also act as a business hub, with leisure facilities, a restaurant and meeting rooms.
Neil Hodson, CEO, describes Aston Barclay as a technology-led remarketing business, which is responding to the needs of both buyers and sellers.
He said: "Wakefield is a game-changer for the remarketing sector and there is no other auction facility like it in Europe. We have created a five-star, dynamic environment filled with new technology which will be a great working environment for our buyers, vendors and colleagues alike.
"This further supports our ambition of becoming a digital business with industry leading physical fulfilment."
A key part of its digital development has included a smartphone app, which has been downloaded more than 12,000 times and now accounts for 17% of online bids.
The app, along with enhanced website services, means buyers can bid from both the auction hall or online, while sellers can interact more closely with buyers they want to target, including through direct video messages to promote sales.
New Digital Solutions business launched
To reflect its broader digital ambitions, Aston Barclay is launching a new Digital Solutions arm and at launch it is offering the Cascade range of services.
Cascade combines several Aston Barclay digital solutions, so that information is shared throughout the remarketing process to minimise administration and improve insights.
The process starts with e-Valuate, a vehicle appraisal app, through which a car can be accurately appraised, including the addition of images and any damage, to generate an accurate value based on independent used car data or a customer's own pricing matrix.
This service can be adapted for use by dealers or consumers who want to receive an accurate trade-in value for their vehicle.
As vehicles enter the remarketing process, vehicle data is fed into e-Hub, a control and report management tool that offers a dashboard of information, providing real-time stock overview and performance insights for customers.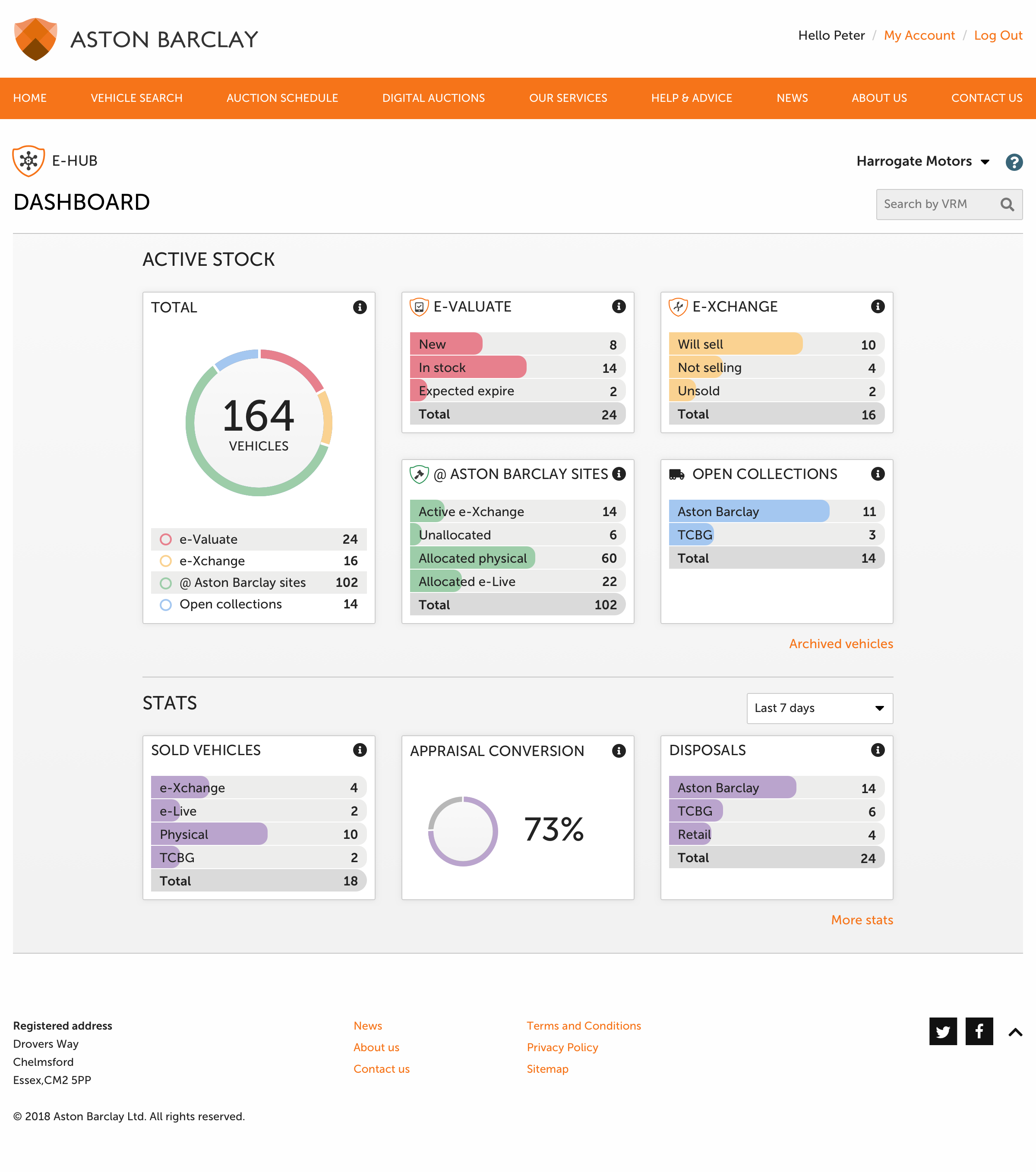 As part of enhancements to e-Hub, sellers will be able to monitor performance against targets during auctions, which will include predicted revenue outcomes based on the latest data, so that vendors can adapt their sales plans in a live environment.
Using e-Hub, sellers can indicate sales channels for vehicles or set price targets for different channels, including the e-Xchange platform.
Through e-Xchange, vendors can offer vehicles for a fixed duration with set Buy Now and minimum reserve prices. Should the vehicle sell, the buyer arranges logistics and payments with the vendor. If the vehicle is unsold, it then flows into other channels, such as physical or online e-Live auction.
e-Live is a digital virtual auction that allows vehicles to be sold from multiple venues at the same time in a traditional bidding environment. After the sale, remaining vehicles can then be offered in physical sales at one of Aston Barclay's five remarketing hubs, where they would also be available for online bidding.
Hodson said: "Used car buying and selling patterns are changing and client requirements are becoming more complex. Digital Solutions places us firmly as a digital business supported by physical fulfilment, combining the best of both worlds to drive real value for our buyers and vendors.
"The Cascade digital journey is seamless in taking individual used vehicles from initial vehicle appraisal, right through to physical delivery to the buyer with a number of options to increase speed of sale."
Expansion through acquisition
In addition to development of its physical and digital remarketing services, Aston Barclay is also growing through acquisition.
Last year it acquired The Car Buying Group (TCBG), one of the largest independent consumer car buying companies in the UK. Its offering will include integrating with dealers so they can offer independent valuation of part exchanges, or even a car buying service through their own website. TCBG vehicles will then be channelled through the Aston Barclay network.
Aston Barclay also recently integrated Leeds-based Independent Motor Auctions, which will see the company's auction volume, from clients including British Gas and National Grid, channelled through the Wakefield supercentre, while its previous six-acre home is pencilled in to become a dedicated van centre.
This gives Aston Barclay six physical remarketing hubs - Chelmsford, Leeds, Press Heath, Westbury, Donington Park and Wakefield - supported by a growing range of digital products that cater for a nationwide customer base.
This combined physical and digital strategy has seen sales rise from 81,000 in 2017 to 105,000 last year, with a target of 144,000 in 2019 and a long-term ambition to reach 200,000.
Additionally, the business has seen the number of active buyers jump 280% to more than 3,000, which Hodson says is the "heart and soul" of any successful auction.
He added: "As a technology-led remarketing company, our customers can sell through the best channel for them, as we have the physical infrastructure and the digital services they need."