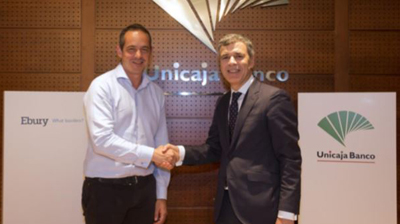 Unicaja Banco, Spain's seventh largest bank, has signed up to Ebury's global transaction banking platform.
The deal will see Unicaja offer international payments and cash management services to its 400,000 SME customers and three million retail customers.
Unicaja's customers can now make international payments in more than 100 currencies, collect over 40 currencies across Europe, APAC, Africa and South America. They will also be able to use dedicated currency accounts in over 20 countries and access foreign exchange risk management tools for over 130 currencies through one platform with Ebury.
Pablo Gonzalez, Unicaja Banco chief financial officer, said: "Signing this deal with Ebury to provide access to cross-border payments, foreign exchange and cash management solutions to businesses, will give us a huge competitive advantage to offer functionality to our customers that currently trade internationally or wish to do so."
Juan Lobato, Ebury's co-founder and chief executive, said: the partnership is further validation of his company's strategy to deliver high-quality and efficient cross border transactional services to small and medium companies that have difficulty accessing these services elsewhere on a single platform.
He said: "In partnership with Ebury, banks can help businesses grow internationally while reducing the cost and risk of cross-border transactions."
Pictured: Juan Lobato, Ebury co-founder and CEO with Pablo Gonzalez, Unicaja Banco CFO