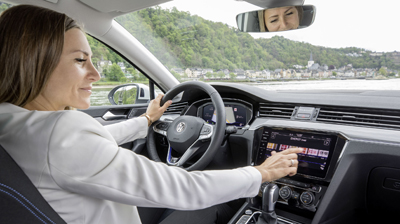 The rise of the connected car has opened new horizons for the finance industry; cars can be turned into payment cards, while drivers and passengers offer a valuable captive audience that can be offered innovative new services. John Maslen reports.
Cars are at the centre of a technology arms race as the source of future financial services growth.
Research giant Gartner predicts the market penetration of connected cars will increase from 39% in 2018 to more than 80% by 2022. This means consumers could rely on in-car infotainment systems as much as their mobile devices, creating a new multi-billion-dollar revenue market.
A report from Juniper Research estimates that 775 million consumer vehicles will be connected via telematics or by in-vehicle apps by 2023, rising from 330 million vehicles in 2018.
Its connected cars report forecasts that automotive OEMs will continue to enable in-vehicle infotainment systems to be accessible to third-party developers.
In turn, this will accelerate expansion of new technologies and services that allow transactions, meaning drivers will more frequently use their cars to search and pay for services and goods, creating a $265 billion connected car e-commerce market by 2023, the research found, accounting for 1% of mobile and online transactions globally.
This requires collaboration between automotive OEMs, network operators and payment solutions providers, with the provision of APIs and development platforms that enable third party-providers to offer payment-capable in-vehicle apps.
Global vehicle manufacturer Fiat Chrysler Automobiles (FCA) has recognised the potential for growth with the recent launch of a new in-vehicle commerce platform, through which customers can order and pay for fuel or food and book reservations.
Using Uconnect Market, drivers can find the closest stores, including petrol stations, and obtain money-saving incentives to shop at certain outlets.
Drivers can also locate and pay for nearby parking and schedule service appointments at FCA dealerships.
Owners link a credit card to their vehicle through the Uconnect Market service and then order and pay for goods through the car's infotainment screen.
Connected cars allow for the rapid deployment of new services. FCA's platform will initially deploy in the US during the second half of 2019 via an over-the-air update for its connected cars, covering model-year 2019 and 2020 Chrysler, Dodge, Jeep and Ram brand vehicles equipped with 8.4-inch touchscreens.
All new touchscreen-equipped models will come pre-installed with the service as part of a global roll-out. FCA expects all its vehicles to be connected by 2022.
Alan D'Agostini, global head of connected services at FCA, said: "Our customers live busy lives, and our goal with the Uconnect platform is to provide an advanced portfolio of services to make their daily drive more convenient, productive and enjoyable.
"This is why we are launching Uconnect Market, as we continue to ramp-up our connectivity efforts around the world."
Brands available through the Uconnect Market platform for the US launch include Shell, pizza giant Domino's, Park Whiz and Yelp Reservations, along with services from the brand's aftermarket network Mopar.
Uconnect Market was developed in partnership with Seattle-based Xevo, which was recently acquired by Lear Corporation.
In the UK, Volvo has announced it is boosting its in-car connectivity offering by fitting a data SIM card as standard to all its new models.
The SIM can also be retrofitted to vehicles that have already been delivered to customers.
Volvo says the provision of an integrated SIM card brings multiple benefits in terms of access to entertainment and information apps, Real Time Traffic Information (RTTI) and connected safety services.
The SIM card gives continuous access to all the information and entertainment apps that are built into the car's touchscreen system, including Spotify, TuneIn, Google Local Search, Yelp, Park and Pay, Record & Send, Glympse, Weather and WikiLocation.
It also provides real-time traffic information, over-the-air updates and triggers alerts when a similarly connected Volvo's hazard lights are triggered nearby, or it encounters slippery road surfaces.
Volvo says that by sharing information in real time via a cloud-based network, Volvo cars can give drivers early warning about potentially dangerous conditions ahead, reducing the risk of an accident.
Kristian Elvefors, Volvo Car UK managing director, said: "Being connected is a hugely important part of modern life, and in-car connectivity brings a whole host of benefits in terms of entertainment, information, journey planning and safety while on the move. By fitting a data SIM card to every new Volvo, we are ensuring that our customers can enjoy the cutting-edge technology in our cars to the full, while also making their lives easier and more enjoyable."
New revenue streams from connected cars
In addition to in-car commerce, the data provided by connected cars also provides the basis for new potential revenue streams.
For example, drivers could earn rewards by agreeing for their cars to automatically provide weather and road condition reports under a new blockchain-powered service being developed by Jaguar Land Rover.
Using cryptocurrency technology, vehicle owners earn credits by sharing data their cars are gathering, such as traffic congestion or potholes, which can then be sold on to service providers including navigation companies or local authorities.
Drivers can then redeem credits for rewards with financial ecosystem partners, ranging from coffee shops or local authorities where funds could pay for road tolls, parking or electric vehicle charging.
In this case, technology enables the car to automatically pay for services without the driver having to hand over a card or cash.
Jaguar Land Rover has partnered with the IOTA Foundation to develop the blockchain-powered payments system, which automatically verifies payments, so there are no transaction fees from service providers.
Drivers could also top-up their digital wallet using conventional payment methods.
The connected technology is being trialled at the new Jaguar Land Rover software engineering base in Shannon, Republic of Ireland, where engineers have already equipped several vehicles with a payment functionality, including the Jaguar F-Pace and Range Rover Velar.
Russell Vickers, Jaguar Land Rover software architect, said: "The connected car technologies we are developing will be transformative.
"In the future, an autonomous car could drive itself to a charging station, recharge and pay, while its owner could choose to participate in the sharing economy - earning rewards from sharing useful data such as warning other cars of traffic jams."
In anticipation of growth in in-car commerce, Jaguar and Shell launched the first payment system by a car in 2017. Drivers could use PayPal or Apple Pay via their car's touchscreen to pay for fuel at Shell service stations, while company car users could log journeys and receipts.
One of the key benefits of connected car technology is the development of recurring revenue streams, either through payments for providing connectivity, or through commissions for the provision of services.
Volkswagen is creating a cloud-based marketplace to sell extra vehicle functions and online services that it estimates could generate revenues of more than €1 billion by 2025.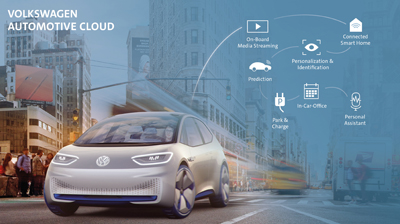 It wants to connect its entire fleet to the digital service so drivers – and eventually autonomous vehicle passengers – will be able to source services while on the move.
Proposed services will range from parking to deliveries and car sharing.
As part of the plans, it has bought a controlling stake in fleet-connectivity provider WirelessCar from Volvo.
Juergen Stackmann, VW brand head of sales, told reporters that revenues would be generated from 2020 onwards.
BMW already offers a wide-ranging app store for cars, branded as ConnectedDrive, which offers services ranging from parking to a concierge.
Innovative examples are being developed in the ride-hailing industry, with companies including Cargo launching in-car commerce.
Cargo has partnered with brands across electronics, confectionery and more to let ride-hailing passengers buy items such as chocolate bars and earphones during their trip using its app.
Drivers display the goods in a transparent case inside the vehicle, and the Cargo store mobile web app enables riders to order and pay electronically, so drivers don't need to carry cash.
The value of data
The potential for advertisers to influence the choices of a mobile audience is immense. According to research by Xevo, 58% of drivers decide where to eat after getting into their vehicle at least once per week, while 71% said it would be useful if their vehicle's infotainment system allowed them to order food or coffee so that it could be ready for pickup when they arrive.
In addition, 69% of drivers said it would be useful to be able to pay for fuel through their vehicle's infotainment system.
Its Connected Car report said: "Since automotive commerce is still in its early days, the features consumers actually want and need from their infotainment system have room to grow, but there's no question that automotive experts have to invest in connected car platforms if they want to stay competitive."
John Ellis, founder and managing director of Ellis & Associates and former head of the connected car program at Ford, told White Clarke Group's Auto Captives Summit that the value of data from connected vehicles could lead to a so-called 'zero dollar car'.
He suggested the value of the information provided could be so great that payments from third-parties for access to it could equal the monthly payments for a vehicle, effectively providing a free vehicle for drivers, as long as they agreed to share data.