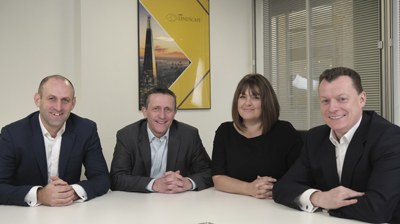 HPD Lendscape (HPD) has acquired Finaptix, the specialist provider of software and consulting services for the asset and auto finance industries.
HPD is a global provider of technology for the working capital industry, majoring in a range of asset based finance products such as invoice and receivables finance and factoring.
Headquartered in the UK, with established branches in California, Sydney and most recently in Singapore, HPD has an extensive and longstanding global reach. It has a client base of 120 and operates in a total of 50 countries worldwide.
Two of the co-founders of Finaptix, Steve Taplin and Michael Mayes, have been appointed to the executive committee in addition to Andrea Cole, previously HPD's product director. Kevin Day continues as HPD's chief executive officer with Tony Davison as chairman of the board.
Finaptix was launched in April 2019 with the expressed aim of working with asset and auto finance companies and assisting them in navigating the software vendor marketplace. It also aimed to provide leadership towards adopting digital technologies.
Both Taplin and Mayes are ex-Alfa Financial Software executives with extensive technology experience in selecting, initiating and delivering systems and business-change projects and providing value-focussed solutions to their clients.
Taplin explained to Asset Finance International that the acquisition of Finaptix will enable HPD to serve the market, and existing clients, even more extensively by expanding HPD into the asset and auto finance sectors.
Tony Davison, HPD's chairman said: "Our purpose is to accelerate our international expansion while developing additional profitable markets in new sectors."
Chief executive Kevin Day added: "The acquisition will provide us with additional experience and a technology advantage enabling us to broaden our software platform to compete in existing markets as well as new ones."
Taplin confirmed that, with the newly-expanded HPD technology platform, all forms of B2B asset lending will be actively pursued.