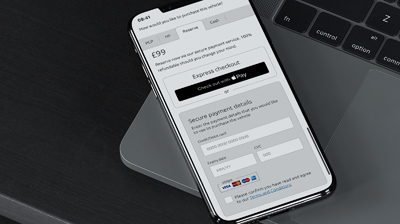 Automotive ecommerce solutions provider GForces is partnering with online payments platform Stripe to allow retailers to accept online payments on their websites.
Retailers using the GForces Net Director Auto-e platform will be offered full Stripe functionality, which enables payments to be made onsite without redirecting the customer to a third-party site.
Stripe is a technology company that builds economic infrastructure for the internet. Millions of businesses of every size use Stripe, including Salesforce, Slack, Lyft and Shopify, to accept online payments and run complex global operations.
Simon Upton, chief operating officer at GForces, said: "We're extremely pleased to be one of the first to join Stripe's Partner Program.
"Our mutual customers benefit from GForces' end-to-end ecommerce enablement within their own native web environment, and Stripe's seamless payments platform. The program's mission of bringing more commerce online echoes our own goal of making the entire car buying journey a digital one."
Development teams within both GForces and Stripe worked together to implement the solution.
Claire Hughes Johnson, chief operating officer of Stripe, said: "Our users are looking for an easier way to discover new partners and applications; that's why we're excited GForces is now collaborating with us to help provide a better overall experience for the businesses now using Stripe."