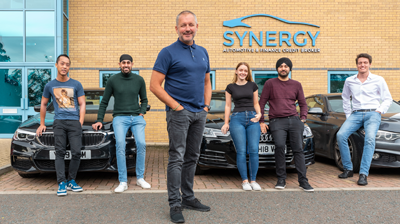 Synergy Car Leasing is introducing the ODO fleet management platform to its business to provide an extended range of services to customers.
Under the agreement, Synergy will be able to offer an end-to-end fleet management service that complements its award-winning broker offering.
ODO is part of DRIVE Software Solutions, a leading provider of fleet management technology for the leasing, broker and dealer sectors.
The ODO platform allows all aspects of a fleet to be managed, with straightforward management of data relating to drivers and vehicles that supports compliance, duty of care and cost control.
ODO automatically manages service schedules, letting fleet managers and drivers know when maintenance is due. It provides a range of other important notifications on key aspects of the fleet and also offers a smartphone app for drivers, with self-serve capabilities.
Paul Parkinson, chief executive officer and founder of Synergy Car Leasing (pictured centre with his team), said: "We recognise the right technology saves our customers time, and improving communication is key whilst continuing to offer real value for money.
"We are delighted to partner with ODO as we make the natural progression into a full-service fleet management offering. Having reviewed the market, ODO was a clear winner both from a functionality and ease of use perspective. It provides us and our clients with seamless, automated end-to-end fleet management solution."
Synergy Car Leasing is one of the leading vehicle leasing providers in the UK, which this year received the inaugural Feefo Platinum Trusted Service Award for its best-in class customer service.
Robert Gorby, chief commercial officer for ODO, said: "Synergy is a leading light in the industry with great ambitions to deliver an amazing experience for their clients. We're delighted they chose ODO and look forward to enabling them to create new revenue streams, improve their renewal rates and find even more time to inspire their customers."