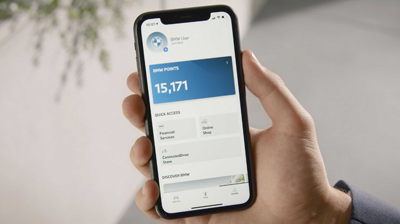 BMW has launched a driver rewards programme in the UK which is aiming to change the behaviour of plug-in hybrid (PHEV) car owners and overcome any reluctance to charge up their vehicles regularly, by incentivising them to drive more electric miles. Called BMW Points, it offers drivers free charging if they up the number of all-electric journeys they make.
Points are earned for each mile driven once the vehicle is registered on the BMW Points scheme via the My BMW App and, once registered, miles are automatically logged by the vehicle. Additionally, any miles driven throughout Europe are also recorded, with BMW Points already available to customers in Germany, Belgium and the Netherlands. Drivers can earn two points for each mile driven electrically, which doubles to four points for each mile driven electrically in a designated eDrive zone.
BMW Points users are also awarded 20 bonus points every time their vehicle is charged for a minimum of fifteen minutes. There is an additional monthly reward of 500 points for each user who charges their vehicle twenty times a month for a minimum of fifteen minutes each time. Once drivers have collected 3,200 points, they will be rewarded with £10 charging credit to be used across the BMW Charging network. At 7,500 points, customers will receive £25 and at 14,500 points a £50 free charging credit.
The programme is available to BMW 330e, BMW 530e, BMW 545e, BMW 745e, BMW X3 30e (produced from August 2021) and BMW X5 45e drivers with BMW Operating System 7.0.
eDrive zones extended
BMW became the first car manufacturer in 2020 to launch geo-fencing technology in designated areas across London and Birmingham, resulting in BMW plug-in hybrid models switching to electric driving mode once the vehicle has entered these eDrive zones. A further six eDrive Zones now have been launched across the UK in Glasgow, Edinburgh, Belfast, Liverpool, Bath and Manchester. BMW has also launched eDrive Zones in the Republic of Ireland, with Dublin and Limerick added as designated cities.
Environmental concerns
BMW's move to encourage more electric miles via a gamification strategy comes as doubts have been cast over the role of PHEVs as a stepping stone to wider adoption of pure electric vehicles. While many in the automotive industry have maintained that the combination of new technology and a conventional engine offers a way for drivers to become more confident with electric power, because it reduces concerns around any range issues, some environmental campaigners argue that the cars can actually be less green than their equivalents without a battery if they are not regularly recharged.
A study by the International Council on Clean Transportation and Fraunhofer ISI on the real-world usage and fuel consumption of approximately 100,000 PHEVs in China, Europe, and North America found that fuel consumption and tail-pipe CO2 emissions in real-world driving, on average, were approximately two to four times higher for private cars and three to four times higher for company cars than the manufacturers' claims.
In 2018, analysis by The Miles Consultancy of real-world mpg data on thousands of company-run PHEVs found the average PHEV used a gallon of fuel every 39.3 miles, which it said was 90 mpg less than the average advertised consumption and significantly worse than the average company diesel. The consultancy identified driver reluctance to charge vehicles routinely as a major factor and urged fleets to introduce a robust strategy to ensure recharging was easy and to educate drivers about the need to keep the vehicle charged.