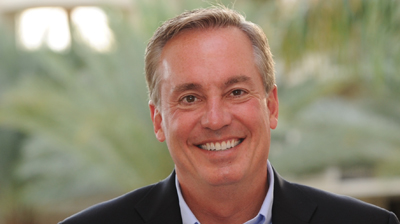 An industry-first smartphone-based equipment finance solution that can initiate and complete loans of up to $5 million in minutes has been launched.
QuickFi has been developed by US-based Innovation Finance, which was started by chief executive officer Bill Verhelle, the former CEO and co-founder of First American Equipment Finance and a former chairman of the Equipment Leasing and Finance Association.
Its digital-first approach led to QuickFi receiving the FinTech Innovator of the Year Award at the International Asset Finance Network awards ceremony in London in December 2019 and also receiving the PowerUP London Changemaker of the Year trophy.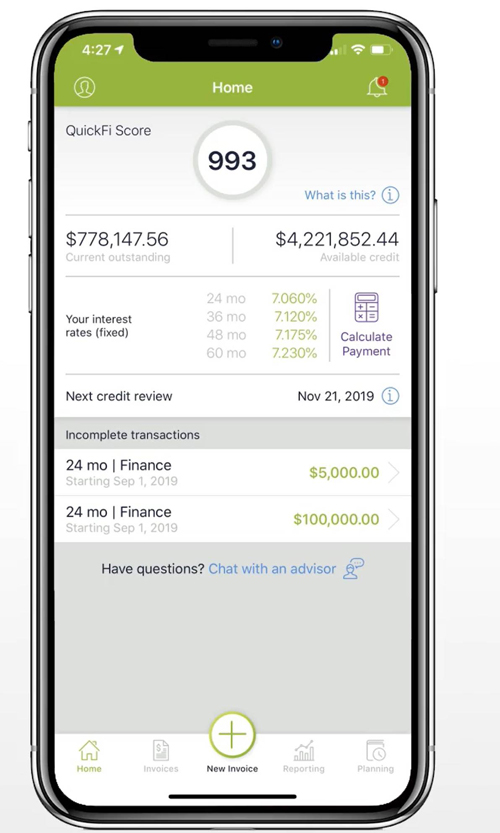 Verhelle (pictured) said: "This is a totally different approach to equipment finance. The transparency is different, the speed is different, and the user experience is different.
"There is a shift to mobile technologies within business, so finance companies need to reflect that change. It is possible to complete deals entirely on a mobile device in minutes compared to weeks for traditional finance."
The business has received $10 million in startup investment and now employs more than a dozen people as it continues to develop the technology.
QuickFi combines a wealth of technology in its proprietary systems and makes maximum use of digital devices to implement facial recognition, while artificial intelligence automates the loan process for creditworthy customers.
The self-service solution works on Android and iOS devices, allowing QuickFi users to upload invoices via the mobile app and electronically sign digital applications for finance ranging from $5,000 to $5 million.
There are no loan fees or charges relating to documentation, while the QuickFi app is free to download and use.
Initial credit limits are based on a customer's credit profile, which can be automatically assessed by QuickFi through APIs.
Interest rates are kept competitive because much of the administration cost involved in processing loan requests has been automated.
Users authenticate their identity using their smartphone, then follow a three-step process to secure funds. The three steps to complete a loan can be completed in under three minutes.
Customers upload equipment invoices through the smartphone app, either using the camera to take a picture or uploading directly. Alternatively, the invoice can be emailed. The invoice is processed with optical character recognition (OCR) and artificial intelligence (AI) technology.
The second step involves choosing the structure of the funding (finance or rent) and the length of term, up to 60 months. Users are shown the fixed loan interest rate and their monthly payment.
If this is accepted, they securely complete the transaction in QuickFi with a single digital signature. Most vendors are paid the next business day.
QuickFi is completely self-service and smartphone-based, although development to support desktop use is underway.
Open lines of credit can also be used on-demand instead of on a project-by-project basis.
Transactions are supported by the Ethereum blockchain, while biometric authentication, digital authorization and encryption protect customer data.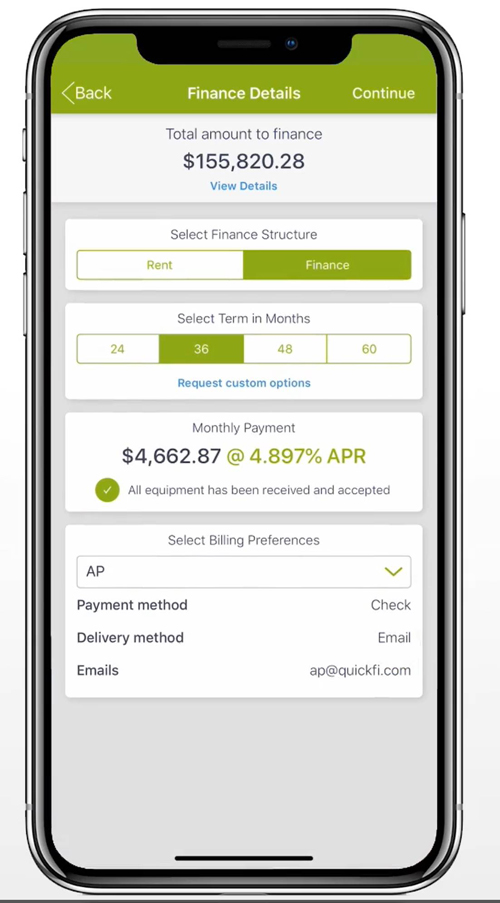 Data is securely stored in the cloud and customers are supported by 24-hour live chat and telephone support.
Verhelle added: "The development of QuickFi has attracted global interest, with manufacturers and banks wanting to understand its potential as a platform to facilitate their loans and equipment leases.
"It was designed from the start with the user experience in mind; QuickFi could transform the $1 trillion per year US commercial equipment financing industry."
QuickFi funding is currently available for assets in the US with long-term plans to develop a global offering.
The launch comes at a time of significant disruption for the global asset finance industry as trends including digitalization and servitization offer significant potential advances in the way customer needs are met.
Impact of digitalisation
The impact of digitalisation on business was highlighted as a key concern among industry leaders attending the World Economic Forum at Davos last year.
In a survey launched ahead of the event in Switzerland, consultancy PwC revealed the results of its global CEO survey, which showed 85% of business leaders believe AI will significantly change the way they do business in the next five years.
Nearly two-thirds of global CEOs see it as a bigger force for change than the internet.
The potential benefits of successfully developing a fully digital infrastructure are vast, as it could contribute up to $15.7 trillion to the global economy by 2030, according to PwC.
Bob Moritz, PwC global chairman, said: "To help unlock internal growth potential in their organisations, chief executives are paying close attention to emerging digital technologies such as AI.
"People are the main success factor in digital transformation projects, but to move beyond successful implementation to true innovation, business leaders should continue to upskill their current and future workforce as well as cultivate soft skills such as creativity, problem solving and empathy in their corporate cultures."
About Bill Verhelle
Bill Verhelle is the founder of Innovation Finance, Harvard Partners, and First American Equipment Finance.
Innovation Finance USA LLC is the owner and developer of QuickFi (patents pending) a national commercial equipment finance company creating a 100% digital lending platform for global manufacturers and banks.
Before starting Harvard Partners in mid-2015, Verhelle served as the co-founder and chief executive officer of First American Commercial Bancorp (First American Equipment Finance) from 1996 until 2015.
It was sold to City National Bank in 2012, but Verhelle continued to serve as CEO until 2015, helping to build the company to nearly $1 billion of assets.
He was chairman, of the Equipment Leasing and Finance Association (ELFA) from 2007-8 and served on its executive committee from 2004-8.
Verhelle is also a graduate of Cornell Law School and is admitted to the New York Court of Appeals and the U.S. Supreme Court.