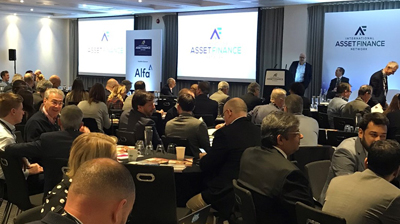 A global array of expert speakers and delegates gathered to discuss the future shape of finance at the International Asset Finance Network Conference in London.
Hundreds of people from around the world came to the event, held on Thursday, December 12, which forms part of the largest conference of its kind in Europe.
Among the leading experts who shared their knowledge with delegates were Professor Gauthier Vasseur, president and chief executive officer of Data Wise Academy and executive director of Fisher Center for Business Analytics at Berkeley University, who provided exclusive insights on achieving a successful digital transformation. He was introduced by Didier Stempak, managing director of Teamwill Consulting.
Robert Beatty, executive vice-president, customer experience, North America at GM Financial revealed insights on how he transformed the customer journey at the finance company.
Andrew Flegg, chief technology officer at headline sponsor Alfa, briefed industry leaders on leveraging value from artificial intelligence in auto and equipment finance, while Rohan de Souza, global client partner, auto finance, from Genpact, shared his expertise on using artificial intelligence to operationalise servitisation in auto finance.
Marcella Merli, head of sales and marketing for FCA Bank, guided delegates through the development of new auto finance models including the brand's work on cars-by-subscription and pay-per-mile solutions.
The event included specialist streams, covering auto, fleet and equipment finance, along with legislation and technology, which provided in-depth coverage of the key issues facing each sector of the market.
Speakers during the streams included Mike Belcher, head of new business for LeasePlan UK, part of one of the world's biggest leasing and mobility companies, who provided a detailed insight into its journey to becoming a Car-as-a-Service company, serving the wider Mobility-as-a-Service market.
Jo Davis from conference sponsor Locke Lord offered an in-depth review of the Senior Managers and Certification Regime following its recent extension to more businesses, along with updates on the Financial Conduct Authority's consulation on changes to commission structures in auto finance.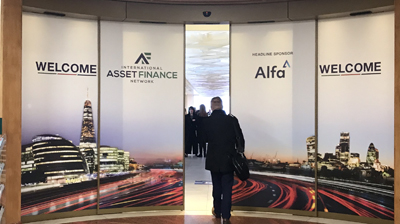 Delegates heard from John Rees, chief commercial officer of leading AFE50-company Societe Generale Equipment Finance, who explained how big banks will seek to impact the future equipment finance market, while Simi Thapar, head of equipment finance and leasing solutions, commercial and SME finance at Tata Capital Financial Services, gave an expert international view of new models in asset financing.
To end the day, a series of innovative ideas were pitched to industry judges in the PowerUP London Awards.
Peter Thomas, chief executive officer of Theorica introduced the presentations to the judges, who were Andrew Denton, chief executive officer, Alfa, Daniel Layne, chief executive officer, Quotevine and Sharon Butler, director EMEA leasing and financing, HP.
Previous award winner Adrian Walsh from CheckVentory also provided an update on his company's progress since securing the overall innovation award trophy.
Edward Peck, chief executive officer of Asset Finance International and co-founder of the IAFN, said: "The International Asset Finance Network Conference continues to go from strength to strength every year, with a global panel of expert speakers who provide unique insights on the day to an audience of senior industry figures from around the world. We are delighted that the network continues to grow and I would like to extend special thanks to the speakers and sponsors who have supported the success of the conference series."
Alfa was headline sponsor, White Clarke Group was platinum sponsor, while NETSOL was gold sponsor. Genpact was AI Insights Leader.
Teamwill Consulting was network sponsor for lunch and Bynx was network sponsor for registration and refreshments. Locke Lord was network sponsor for regulation and compliance. Apak Group and FICO were sponsors, while Quotevine was network partner.
The IAFN/PowerUP Overall Innovation Award sponsor was Cloud Lending, a Q2 company, Aldermore sponsored the IAFN/PowerUP Changemakers Award, Simply sponsored the IAFN/PowerUP Techstars Award and VIP Apps Consulting sponsored the IAFN/PowerUP Innovators Award.
Table hosts for the awards were Close Brothers Asset Finance and the Leasing Foundation.
For full details of speakers and sponsors, visit the event website at https://www.internationalassetfinance.net/